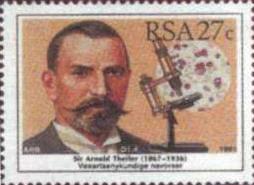 ---
Mon expérience clinique dans le traitement de la theilériose bovine au Maroc.
---

Maladies fréquentes dans mon activité vétérinaire au Maroc.

Page personnelle de Lucien Mahin.
---
My field experience with bovine theileriosis in Morocco.
---

Common and uncommon clinical cases in my veterinary practice in Morocco.
---
Is Theileria annulata infestation a dissuasive constraint to intensive cattle breeding in the Doukkala area (Central Morocco) ?
The author relates his thirteen years experience, as a private veterinary practitioner, in the treatment of bovine theileriosis due to Theileria annulata in the Doukkala region of Morocco, where the disease is enzootic. The main clinical symptôms are quoted, as well as less known atypical signs, epidemiological features, and the efficiency of treatments. Traditional knowledge and attitudes of breeders towards the disease are also quoted.
A detailed curve concern the seasonal distribution of the consumption of buparvaquone, the specific treatment of the illness, on the last four years (1999-2002). The importance of this disease in the economy of field veterinary practice is shown by the parallelism of these curves with those of the global cash flow of the " big animals " practice in our cabinet.
Finally, the author gives out his personal point of view about the evolution of the private veterinary medicine, and the impact of Theileria annulata disease on the development of intensive cattle breeding in the region, regretting the almost absence of any long term genetic policy on the naturally resistant local breeds, of which the Atlas Brown.
---

Home page of Lucyin Mahin.
---
Mi apriyesse a médyî li five ås crexhioules des grossès biesses å Marok.
---
Alowaedje di Butalex 1999 - 2001.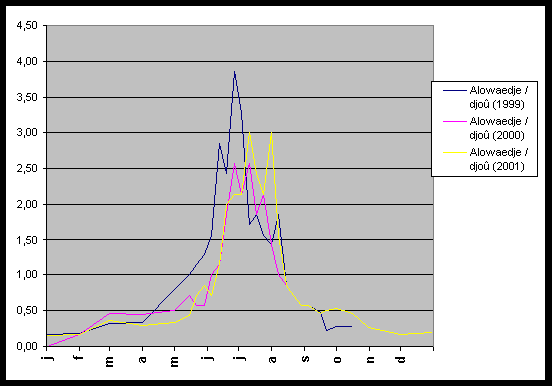 Alowaedje di Butalex © e botayes di 40 cc par djoû (1 botaye po, onk dins l' ôte, 4 biesses), tot åddilong di l' anêye, di 1999 à 2001.
---
Li five ås crexhioûles a Theileria annulata, est çu ene rascråwe a vs espaitchî di tni des bounès biesses a coines dins les Doukkala (Meytrin Marok) ?
Li papî e francès djåze del five ås crexhioûles, ene maladeye metowe ås biesses a coines pa ene biesse microscopike formagnant l' sonk, ki s' loume e sincieus latén Theileria annulata. Li fjheu do studia rclame ene apriyesse di 13 ans a médyî cisse rascråwe la, ezès Doukkala, on payis d' aclevaedje e Meytrin Marok, ki l' maladeye î rvént tos ls ans.
Les mwaisses senes del maladeye - sapinse a s' no -, c' est ene five di tchvå (40 a 42 grés Celsius), et l' avnowe di sacwantès crexhioûles pattavå l' coir, ådvins et ådfoû. Les cenes ki sont-st åjheyes a rilver, c' est les spalreces, les coxhreces, et les babetchreces. Mins, télcôp, gn a eto des ôtès glandes bén veyåves, come les cenes al copete do pés. S' el må n' est nén sognî a tins, li formagnaedje do sonk va fini pa dner del djaenisse, pu l' biesse va crever deus troes djoûs après
On cåze eto di des ôtes sintomes, ki n' arivèt nén si sovint, padecô mo ewaerants, come, metans, li schavaedje del coûtche dizeutrinne di l' avaloe, k' est riscraetchî par après. On dvize, avou, des voyes do rascråwaedje del maladeye, ki l' microbe vike on moumint dins on boschet d' avår la, ki s' lome e sincieus latén Hyalomma detricum, åjhey a ricnoxhe a cåze di ses bistatcheyès pates (riloukîz l' poirtrait del frumele, et do måye al copete di ç' pådje cial).
Li maladeye est doirmante dins ene grosse pårt (dipus d' 60 åcint) des biesses ki vikèt dins l' payis. Les veas skepyîs låvå sont sovint edurants (mins nén todi). Et, cwand i sont epestiferés pol prumî côp, i plèt aveur des crexhioûles ki spitèt foû, sins esse clinicmint malådes. Ça fwait ki les biesses ki toumèt malådes, c' est sovint des cenes k' ont stî apoirtêyes (di l' etrandjî, u d' ene ôte coine do Marok); u cwand l' moussaedje do microbe e sonk est trop fel po l' adurance des veas; u cwand les vatches metans, sont ene miete fayeyes a cåze k' elle on velé, u k' ele dinèt bråmint do laecea.
Nos avans studyî so cwatre ans, l' alowaedje di Butalex, et les rintrêyes di cwårs al clinike, ki provnèt do médiaedjes des vatches. On voet bén ki ç' maladeye la est foirt consecante po l' economeye di nosse cabinet.
Damadje ki les sincieus, et les acleveus nerén, n' ont sondjî a relire ene sôre di vatche come li ptite brune do Payis, k' est bråmint pus adurante al maladeye, et ki pôreut diner ostant d' laecea ki bråmint des cafloreyes-noeres vatches, sovint må sogneyes.
---

Maladeyes ki dj' rescontere co sovint come årtisse e Marok.

Cisse pådje cial a stî adjinçnêye pa Lucyin Mahin.
---